Pay By Phone
You can now pay your utility bills over the phone by dialing 225-209-9972.
Note: Please be ready with your account number as it appears on your bill. The phone payment system does not require the entry of all leading zeroes, but, rather, it does require the account number beginning with the first counting number. For example, account number '00123' would be entered as '123.' You should be ready with your payment information prior to dialing. After a certain amount of time the recording will repeat to input your data.
STEP 1:
Dial 225-209-9972
STEP 2:
You will be prompted to enter your account number followed by the # key.
STEP 3:
Your account number will be repeated, and you will be asked to press the number 1 if it is correct and 2 if incorrect.
STEP 4:
Account balance will be stated. You will press 1 to pay balance in full or press 2 to pay a different amount.
STEP 5:
When prompted, enter your card number followed by the # sign.
STEP 6:
Enter your expiration date with two numbers for the month and two numbers for the year.
STEP 7:
Enter your security code followed by the # key. This is the three or four digit number on the back of your card.
CONFIRMATION:
You will receive a confirmation number after the payment information is entered.
This number is for customer use only, and serves no purpose for the Town of Livingston.
What if Payment Fails???
If account lookup is failing, please double check your account number and make sure the playback of your entry matches the account number on your statement.
If payments are failing, the solution in almost all cases is to simply use a different form of payment. In other cases, the issue could be occurring where customers are taking too long to enter their information. If one payment method is failing for a customer but another is succeeding, there is nothing that CUSI can do to force the payment processor to accept the payment. The customer can follow up with their bank to ensure that the payment is not being blocked at that level.
Credit Card Processing Fee
A $2.50 CC processing fee will be applied to any payment up to $99.99 and a 2.5% CC processing fee will be applied to any payment over $100.00
To be transferred to customer service at any time dial *9#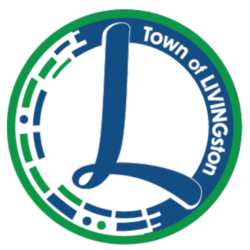 Contact Us:
20550 Circle Drive
P.O. Box 430
Livingston, LA 70754
(225) 686-7153
HOURS OF OPERATION:
Monday-Thursday
7:00AM-5:00PM